Sterndrives have the engine inside the boat connected to a drive unit and boat propellers located outside the boat, at the transom.
The bottom of the drive unit looks like the gearcase of an outboard engine and in most cases really is. It is attached to a drive-shaft housing that is connected through the transom to the engine which transmits power through 90-degree-angles to the gear case and the boat propeller shaft. The boat propellers used are the same as the ones used on outboards.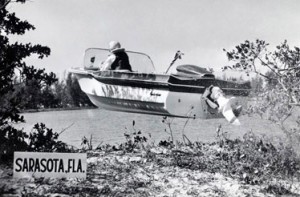 The first sterndrive that was mass produced and offered for sale to the public was the Volvo Penta Aquamatic, introduced in January 1959 at the New York boat show.
Mercury Marine could have been the first because the man Jim Wynne who came up with the original working model was employed at Mercury in the 1950's and presented his drawings to his boss Carl Kiekhaefer the owner of Mercury in 1957. Amazingly Mr. Keikhaefer was not interested in it at all, stating the outboard motor and Mercury propeller is the best propulsion system. Wynne was sure he had a great idea so he quit Mercury and went forward on his own by producing a prototype in his garage, mating his sterndrive model to a Volvo Penta BB70 inboard. He then went over to  Scadinavia and showed his system to  Harald Wiklund, the manager of Volvo Penta . Harald loved the idea and a contract between Wynne and Volvo Penta was drawn up and signed in only a couple of days.
Working with Jim Wynne, the engineers at Volvo Penta came up with the first real Aquamatic, tested it in a barrel of water just before Christmas 1958, then shipped it directly to New York for the January 1959  boat show.  At the show it was a huge success with the public and also with the boat makers. Over one thousand units sold in the first year.
Volvo Penta lake tested the Aquamatic sterndrive system in a boat, starting with driving it over a small island eight times, then over a sandbar twenty two times, then over an oyster bed four times. The test ended with driving the boat straight up on to a beach at thirty five miles per hour and came to a halt sixty feet inland. The drive unit was pretty much undamaged with only minor damage to the Volvo Penta sterndrive boat propeller. Try that with your sterndrive boat.