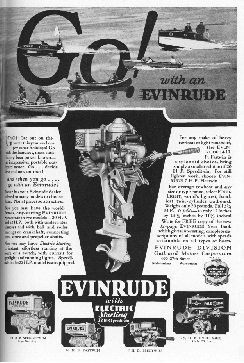 About the same time Mr. Waterman was developing his first boat motors, a young man named Ole Evinrude, born in Norway in 1877 and came to America in 1882, started out his adult life at the age of sixteen by getting a job in a machine shop in Madison Wisconsin. He soon became very skilled in machinery and pattern making and studied mathematics in his spare time.
He moved to Milwaukee Wisconsin and in his spare time he built his own automobile powered by a four cylinder air cooled gasoline engine of his design that he used for his own transportation.
In 1907 Ole along with his wife Bess founded Evinrude Motors in Milwaukee and developed and produced a 1 and 1/2 horse power single cylinder two cycle outboard boat motor that first came out in 1909. Top speed was estimated to be about five miles an hour and either a two bladed or three bladed boat propeller was used. The first outboards sold to the public were all built by Evinrude himself. The cost was $62 and  they weighed 65 pounds. In 1910 Ole applied for a  U.S. patent for his outboard engines and it was approved in 1911. The Evinrude ad shown appeared in the National Sportsman magazine in July 1910. In the ad it says " Don't row! Throw the oars away! Use an Evinrude motor. These outboard boat motors using specially designed boat props by Ole were an instant success.